How to Dice Ginger? Ginger is one popular root; you can add it to anything for a punch of spicy flavor. Add a little honey and lemon tea to help fight a cold, or use it to spice up a stir fry. Ginger's weird shape can be a bit intimidating to work with, but you don't need to be; once you get the hang of it and learn how to dice all types of ginger the right way, it will become easier.
Ginger is super versatile; this world-famous spice adds great flavor to both sweet and savory dishes. It is also great medicine for your scratchy throat or runny nose, providing instant relief. Ginger also has many health benefits, such as boosting the immune system and detoxifying the body.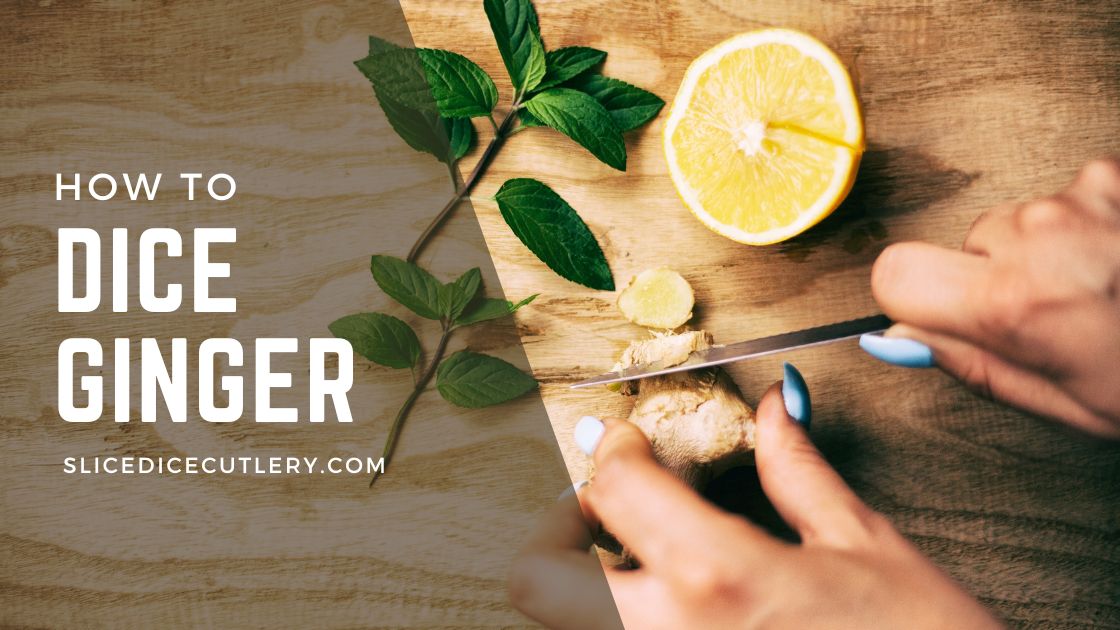 Whether you consume ginger at home or not, most likely, you'll come across one recipe that calls for ginger, and learning how to dice ginger becomes relevant. So if you are thinking about dicing ginger, learn the right methods and important tools to do an efficient job.
How to Dice Ginger
Method 1:
Peel the ginger using a spoon. Because of the unusual shape of ginger, the easiest way to peel it is not with a peeler or a knife but with a small spoon.
Slice the ginger into planks. Turn your peeled piece of ginger vertically in front of you, then use a sharp chef's knife to slice it lengthwise into thick planks.
Slice each plank into matchsticks. To make matchsticks, stack your planks on top of each other in a neat pile, then slice them lengthwise into thin matchsticks. This cut is also widely known as julienne, and you can use ginger like this for sautéed vegetables or stir-fries where you want distinct pieces of ginger.
Slice across the matchsticks to dice. To dice your ginger evenly, line up those matchsticks in a horizontal row before you and cut crosswise to create super-small dice.
Method 2:
You can use a sharp knife to slice the ginger in rounds. Slice the ginger across the grains of the fibers.
Stack 2-3 rounds you cut above and cut into thin lengthwise sticks.
Line up the ginger sticks you cut above and chop them into small pieces.
Finely chop the ginger pieces using a chef's knife. You can move the knife right to left and vice versa to dice the ginger.
Common Questions About How to Dice Ginger
How to store ginger?
You want to store your ginger in the fridge with the peel on. If you have one of those crisping drawers in your fridge, it could help it last longer.
If you have already cut your ginger, store it in an airtight container to make it last the longest possible.
Do you peel ginger before chopping?
Before cutting fresh ginger, you will need to peel it. The thick brown peel on ginger is no fun to eat. Because of the weird shape of ginger, the easiest way to peel it is not with a peeler or a knife but with a small spoon.

If your ginger has been hanging around for a while and is a little shriveled, it won't peel easily with a spoon. You'll need a paring knife to cut away the peel.
How to wash ginger?
It would help if you washed your ginger because you do not know what is on the surface, and as you cut the ginger, you will work what is on the surface onto the slices that you're going to eat.

Washing ginger is super simple, just run it under some cold water and scrub the root. Use a brush or get aggressive with your hands; it is up to you.
What is the best way to cut ginger?
Follow the steps to cut ginger.
Wash the ginger
Remove the skin
Slice the ginger to obtain ginger matchsticks, slice the ginger into slices about 1/8″ wide. Then flip them over and cut them 1/8″ wide.
Chop the ginger, take your sharp knife and start to chop the bunch to the thickness you are looking for.
How is diced ginger used?
Finely chopped ginger, minced ginger, or small diced ginger is used as an aromatic base in soup or risotto or to stir into some sautéed vegetables when you don't want distinct pieces of ginger.
How do you mince fresh ginger?
You want to follow the steps above for chopping and then go ahead and mince to mince ginger. This is really simple. You are just trying to make the ginger smaller than you already did.
Place your hand on the top of the knife with your palm open toward the tip of the knife.
Chop the ginger with the top of the knife and go back and forth until you get the ginger to the mince that you are looking for.
Grating ginger is probably the easiest way to get to the smallest size of ginger very quickly. This works great as long as you are not looking for finished little chopped pieces.
Peel back the skin of the ginger with a spoon and grate the ginger just like you would with cheese on a cheese grater.
Do you have to peel ginger for tea?
In the mood for ginger tea? Here is an easy way to do it, and no, you don't need to peel it first but do rinse it and scrub off any visible dirt.
Thinly slice your fresh ginger. Plan on using about a one-inch piece of ginger per cup of tea.
In a saucepan, combine the ginger with freshwater (use one cup of water per serving).
Bring the mixture to a boil over high heat. Reduce the heat as necessary to maintain a gentle simmer.
Simmer for five minutes (or up to 10 minutes if you want extra-strong tea).
Pour the tea through a fine sieve to catch all of the ginger. If desired, serve your tea with a thin round of lemon or orange for some complimentary acidity. You might also appreciate a drizzle of honey or maple syrup, which will temper the fiery ginger flavor.
Is there a specific knife to dice ginger?
The best knife to cut ginger is a chef's knife. A large chef's knife can easily slice thin slices in one direction, then chop in the other until the ginger is minced into small pieces. A good knife can drastically improve your time in the kitchen and lasts for years.
What is the best chef's knife to dice ginger?
Here is an excellent choice:
Manufactured in Germany, ZWILLING Professional S knives are precision-forged from a single piece of solid steel.
To ensure an ideal cutting angle, the laser-controlled edge is incredibly sharp. The sturdy bolster provides just the right balance and acts as a finger guard to help ensure safe cutting.
The three-rivet handle delivers optimum balance and safe handling, making it a trusted knife for professional chefs worldwide. This comfortable, polymer-based handle is perfectly bonded to the full tang. These knives are ideal for everyday use with an ergonomic design that ensures fatigue-free cutting.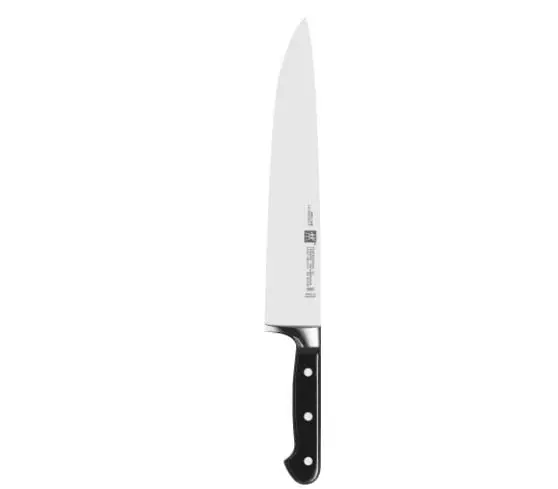 Features:
Forged German stainless steel
Razor-sharp ice-hardened blade
Dishwasher safe
Ergonomic, triple-riveted handle
Additional Tips on How to Dice Ginger
How to Dice Ginger is easiest when you first remove the skin of the ginger. It does not have a great flavor, and the skin is effortless to remove.
To peel ginger, hold the spoon sideways in your dominant hand, and hold the ginger in the other hand, then scrape the side of the spoon across the surface of the ginger. Work all the way around the ginger and between all the arms, armpits, and around all the bends until all the skin is scraped off.
A spoon with a sharp edge rather than a rounded edge works best, and you don't need to apply too much pressure, allow the spoon to do the work for you.
When a recipe calls for "finely chopped" ginger, you must create a super small dice, otherwise known as minced ginger.