How to Dice a Potato? Dreading having to prepare lunch because you need to dice a potato? We hear you; if you are here, you probably know by now that there is a right and a wrong way when it comes to dicing. You may have wasted precious time dicing your potatoes for years, but you do not need to suffer every time. So if you've been wondering how to dice a potato, continue reading to find everything on the subject.
Potatoes are a good source of fiber, though the first thing that comes to mind about potatoes is most likely french fries; the potato itself is fat and cholesterol-free and low in sodium. Potatoes also contain antioxidants that prevent diseases and vitamins that help your body function properly.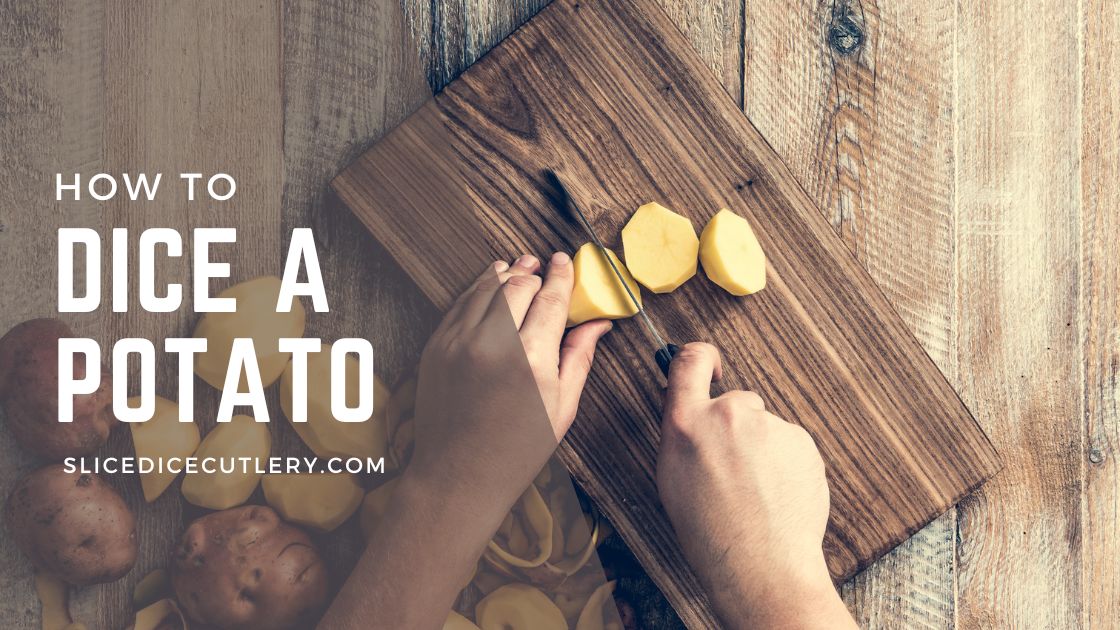 As good as potatoes are, dicing them is a whole other situation. Dicing takes a bit of practice, so don't get discouraged if, at first, you find it a little troublesome. That said, dicing potatoes doesn't need to be a pain when you utilize the right technique and the right tools. So if you are thinking about dicing potatoes for your next recipe, find out the right ways to dice a potato.
How To Dice A Potato?
Method 1
Peel the potatoes with a potato peeler or paring knife. Place the peeled potatoes in a large bowl filled with cold water. This will help keep them from browning before you are ready to use them.
Place a potato on a clean cutting board. Cut off the rounded edges on all sides of the potato to create a rectangular block.
Cut the potato lengthwise into evenly-spaced slices. Stack the slices on top of each other and slice them lengthwise again, using your non-dominant hand to hold the stack steady.
Turn the potato slices 90 degrees, again using your non-dominant hand to hold the stack steady. Cut across the potato slices at even intervals to create equal-sized potato cubes. Repeat with the rest of your potatoes.
Method 2
Cut the potato lengthwise into slices using a sharp knife
The thickness will depend on how large you want your dice to end up
Next, stack the slices and cut into matchsticks the same width as the thickness of the slices
Slice the matchsticks into cubes
Method 3
Slice a strip off, lengthwise, so the potato sits flat on the cutting surface.
Slice the potato into uniform pieces while holding it with your non-cutting hand.
Slice thinly for smaller dice and thicker for chunkier dice.
Cut each round into sticks. You can cut each round one at a time or in a stack.
Turn the sticks 90 degrees and cut across the shorter side into cubes.
This step can also be done in the stack or one round at a time.
Common Questions Regarding How to dice a potato
What is meant by diced potato?
By dicing, we reduce food into small squares; in this case, you typically peel and dice the potatoes, which will be used in several recipes.
How to use diced potatoes?
Cubed or diced potatoes are called for in various dishes, from breakfast potatoes to potato salad. Cubing your potatoes also works well for making mashed, sautéed, or roasted potatoes. You may also want to cube the potatoes if you make home fries.
How do you dice potatoes into 1/2-inch pieces?
Cut lengthwise into 1/2 inch slices. Stack a few slices on top of each other and cut lengthwise again the width you want. Turn the potato to cut across the lengthwise slices 1/2 inch wide. You will end up with small cubes.
Is it difficult to dice potatoes?
Because of their irregular round shape, cutting potatoes into cubes can be a bit difficult. You'll need to slice off all of the potato's rounded edges to create a rectangular shape needed for equal-sized cubes.
Is there a specific knife to diced a potato?
A good chef's knife makes it easier to slice the potatoes evenly; remember, it can take a little time to master. If you use it properly, its heft does most of the work for you. Look for a good 8- to 10-inch chef's knife, which is best for onions, carrots, potatoes, peppers, celery, meat.
What to look for in a knife?
One with a blade, bolster, and tang forged from a single piece of high-carbon stainless steel; has optimal stability. You should see the tang (or metal) sandwiched between the handle material along the spine.
Also, the knife should be neither blade- nor handle-heavy: If you place your finger under the curve of the bolster, the knife should balance perfectly.
How do you quickly dice potatoes?
If you are short on time, here's what you can do:
The first step is to cut the potato in half from end to end. Then, lay the new potato plank flat-side down on the cutting board. Cut into thirds lengthwise; you'll end up with three long potato sticks.
Keeping the slices together, rotate the potato half 90° and slice all the way across with four long cuts. This should leave you with 12 large potato chunks. Repeat this process with the other half of the potato.
What is the best chef's knife to dice a potato?
Here is an excellent choice:
The MTH-80 is a popular knife for everyday use. The 8″ length is the most commonly used size in both the home and professional kitchen.
The thin 2.5mm blade and bolster allow this knife to slice easily and dice almost any food. The added dimples help the knife glide through sticky foods like potatoes, apples, and summer squash.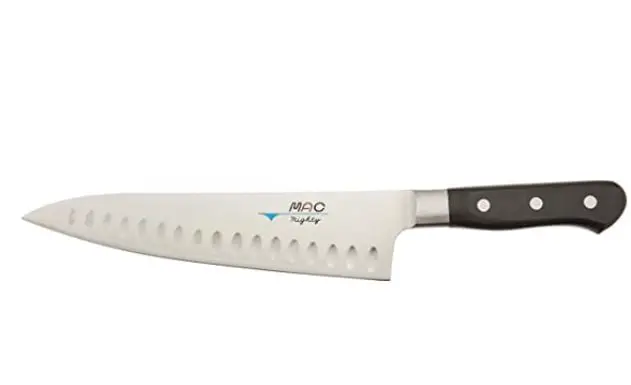 Features:
Knife Length: 12.63″
Weight: 6.5 oz
Blade Length: 7.88″
Blade Height: 1.88″
Blade Thickness: 2.5 mm
---
Additional Tips on How to Dice a Potato
If some pieces of potato are bigger than others, this may result in some pieces being undercooked or burned. Make sure you have an even dice.
The smaller you've diced the potatoes, the quicker they will cook.
Once you're done dicing, be prepared to use your potatoes immediately or place them in a covered bowl with cold water to keep them from browning.
Don't crowd the pan. If you do, you'll have slightly steamed, soggy potatoes. Cook in batches if all of your potatoes won't fit in a single layer in the pan.
To keep the potatoes from getting soggy, it's a good idea to rinse them in a colander under running water from the sink.
If you don't plan to cut the potatoes right after peeling them, place them in a bowl or pot of cold water to keep them from browning.
When peeling the potatoes, remove any sprouts or green spots in the flesh with the end of your vegetable peeler.
If you prefer, you can cut each potato piece individually. However, it would help if you remembered that it will take longer to dice them one at a time.