How to Dice Eggplant fast and easy? In the mood for French ratatouille, Serbian ajvar, Middle Eastern baba ghanoush, or the world-famous eggplant Parmesan dish? We hear you, and you know what all those recipes have in common? Eggplant is the star ingredient! If you love eggplants, then learning how to dice eggplant is an essential skill that will make your kitchen life much easier.
Eggplants are an extremely healthy vegetable for any diet and are versatile; eggplants are popularly roasted or broiled with plenty of olive oil. Eggplant gets a tender and buttery texture and is famous around many cuisines. And given that you're starting with fiber and vitamin-stuffed veggies, most anything you make with eggplant provides some great nutrition.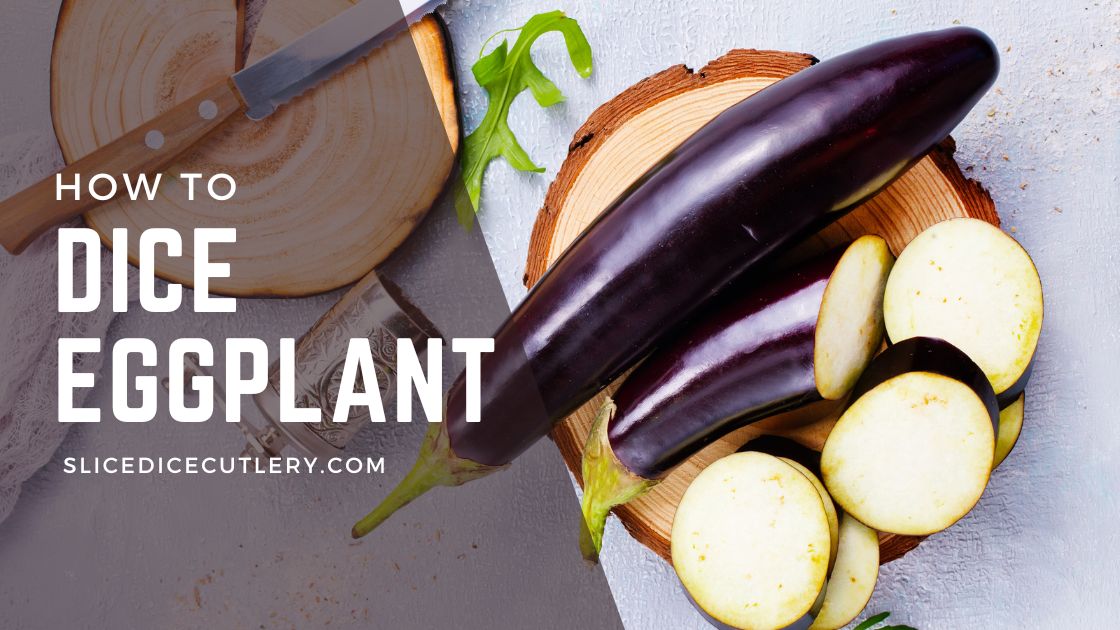 Safe to say, eggplants offer a whole lot of goodness; however, dicing eggplants into uniform pieces takes practice and can be a bit intimidating when you don't achieve the same-size pieces. That said, dicing eggplants doesn't need to be a scary thing once you learn the right technique. So if you are thinking about dicing cucumber for your next salad, find out how to dice cucumber the right way.
How to Dice Eggplant
Method 1
Using a large chef's knife, slice off the top and bottom of the eggplant.
Stand the eggplant up and cut thin slices lengthwise.
Stack the slices and cut them into strips. Then turn the strips and cut them crosswise to the desired size.
Method 2
Clean the eggplant by running it under cold running water and wiping dry with a paper towel or wipe off with a damp paper towel.
Trim stem off from the eggplant. Do not peel.
Cut the eggplant in half lengthwise with a large knife.
Brush the cut flesh with lemon juice to minimize browning.
To cut the eggplant into chunks, cut around the outside of each half without cutting through the skin.
Then cut the center diagonally to form a crisscross pattern in the flesh. Be sure to cut deep enough to cut all the flesh but do not cut through the skin.
Lift the cubed chunks out of each half using the tip of a knife and brush immediately with lemon juice.
Common Question About How To Dice Eggplant
What is the best way to cut eggplant?
Eggplants can be turned into slices, cubes, and wedges. Eggplant is great in so many dishes. You can cut it into slices great for eggplant parmesan or on pizzas. Eggplant rounds are great for topping a pizza, making eggplant parmesan, grilled eggplant, and so much more. Cutting them into rounds is perhaps the easiest way to cut your eggplant.
Wash the eggplant with a mild soap or vegetable spray, and then pat them dry.
Cut off the top of the eggplant right under the stem and leafy top.
Then you want to cut off the bottom, only about a 1/4 in.
Lay the eggplant on its side horizontally in front of you and cut through the whole eggplant.
Depending on the thickness you are looking for will depend on how thick you cut your slices.
A 1/2 inch is a pretty good thickness for eggplant parm.
How to use diced eggplant?
Dice it up and use eggplant in pasta dishes or salads. Sautéing or roasting them up as a side dish is also delicious. Diced eggplant is great in salads, soups, stir-fries, and many other dishes, and it is a great way to add your daily fiber to so many dishes.
Do you have to peel eggplant?
No, you do not have to cut or peel the skin off from the eggplant. It is completely edible but can be a little tough if it isn't cooked. However, peeling is also a popular choice for many, especially when making sauces.
Should you eat the seeds in eggplant?
Unlike many foods, where the seeds are unpalatable and often removed before eating, eggplant seeds are healthy and are beneficial to health. The problem with eggplants is that they are often very bitter, and most people cannot eat them raw. Eggplant seeds are similar, being unpalatable to most tastes due to the bitterness of the plant.
Can the eggplant seeds be cooked?
The eggplant seeds can be removed and cooked separately, like pumpkin seeds or sunflower seeds, or left with the eggplant and cooked with the entire vegetable. Remove the eggplant seeds for a snack like pumpkin seeds, and bake them with salt and other spices.
What does it mean to purge the eggplant?
Purging or salting the eggplant will remove some of the moisture and decrease the amount of oil absorbed. The salt draws out the moisture in the eggplant, causing the air pockets in the flesh to collapse, preventing the flesh from absorbing too much oil when cooking. This is also beneficial to help reduce some of the bitterness in eggplants.
Is there a special knife to dice eggplants?
You'll need a good cutting board and a sharp knife. A quality chef's knife is what you want for the best results.
What to look for in a knife?
One with a blade, bolster, and tang forged from a single piece of high-carbon stainless steel; has optimal stability. You should see the tang (or metal) sandwiched between the handle material along the spine.
Also, the knife should be neither blade- nor handle-heavy: If you place your finger under the curve of the bolster, the knife should balance perfectly.
What is the best knife to dice eggplant?
Here is an excellent choice:
In Japanese, shun is the word used to describe local, seasonal food when it is at the peak of its flavor and freshness and perfection. Shun Cutlery is known for its exquisite beauty and ultra-premium performance.
Shun Premier features a PakkaWood Handle that offers a comfortable grip. Walnut-colored PakkaWood is durable and won't harbor bacteria. The embossed endcap adds beauty and balance.
The lightweight, razor-sharp blades are quick and precise. The palm swell on the handle nestles into the hand to provide confident control – for both smaller and larger hands. The embossed endcap and brass ring provide both balance and beauty.
Easy to use for chopping, slicing, peeling, cutting, grilling out, preparing dinner, and chopping vegetables.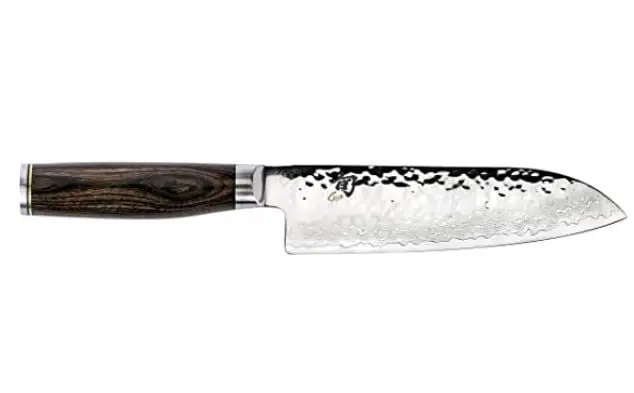 Features:
Handle features a full composite tang that adds strength and balance
Handcrafted in Japan
Light and agile
Versatile
Additional tips on How to Dice Eggplant
Remember that it will shrink when dicing your eggplant, so you want to cut your pieces twice the size.
When they cook, the moisture from the eggplant is released and causes it to reduce significantly in size.
Slice the eggplant down the long way into sheets and then stack the sheets. Then cut them the long way again, turn them, and dice.