How to Dice a Shallot? If you use shallots in the kitchen, then learning how to dice a shallot is an essential skill. They are one of the most popular and versatile ingredients; some say even more than onions.
They're excellent pickled and perfect for frying in oil for a crunchy topping. Not to mention, they make any sauce irresistible. This small and elongated type of onion happens to be loaded with nutrients and plant compounds, offering numerous health benefits.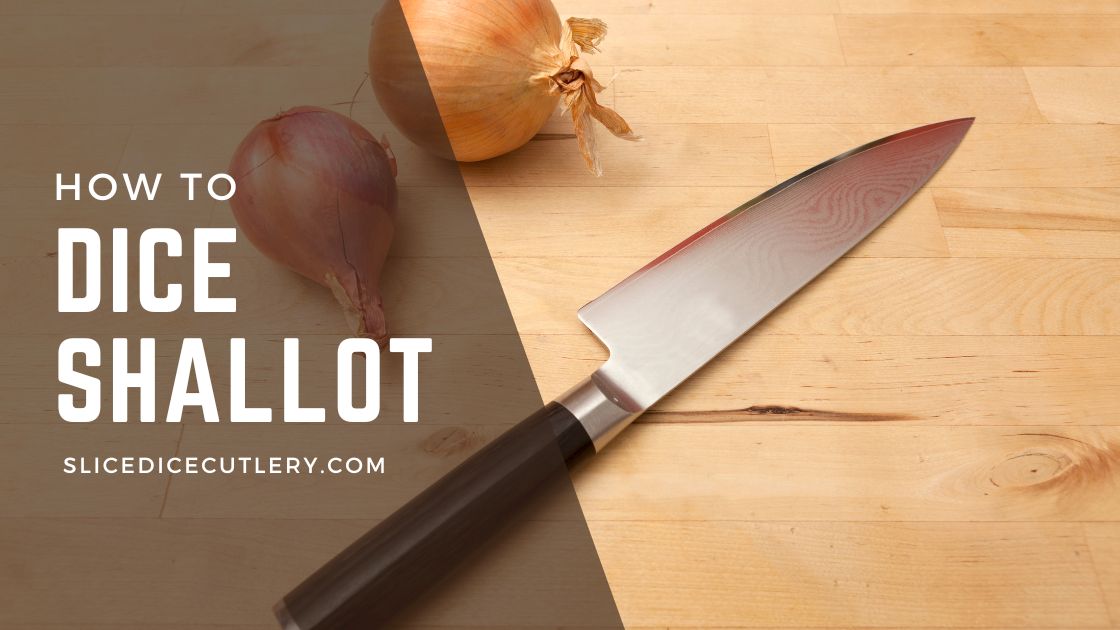 Shallots are a source of protein, fiber, and micronutrients. Shallots are also packed with powerful antioxidants, making them even more appealing to include in your recipes. As good as shallots are, dicing them is a whole other situation.
Dicing takes a bit of practice, so don't worry if, at first, you find it a little difficult. That said, dicing shallots doesn't need to be scary when you utilize the right technique and the right tools. So if you are thinking about dicing shallots for your next recipe, discover different ways to dice a shallot.
How to Dice a Shallot
No matter which method you pick, you'll likely be using:
Sharp chef's knife
Cutting board or paring knife
Method 1
Cut the stem end off. Cut the end off of the shallot; you want to leave the root end, so it keeps it all intact as you cut it. You can trim a bit off the root end if it makes it easier to peel the skin off.
Peel off the skin. Keep in mind that these little guys are quite delicate; you want to peel the skin off without damaging the shallot. You can use a pairing knife to make a wonderful slice, so you have something to get under.
Cut in half. Simply you are looking to cut the shallot the long way through the root end. This will set you up for dicing and slicing.
Cut towards the root end. Make the slices as wide as you want the pieces of onion to be. Be careful to keep your fingers out of the way while you do this step. Keep the slices short of the root. You don't want to cut all the way through, so you have something that will keep the shallot intact as you chop it into pieces in the next step.
Cut across the shallot. Now you are ready to slice them into little pieces. Go ahead and slice them in the opposite direction to the size you did in the last step. This should leave you with perfect little diced onions.
Method 2
If the shallot contains more than one bulb grouped, break them apart and work with each one separately.
Peel the shallot.
Cut the shallot in half lengthwise.
Make lengthwise slits in each half of the shallot.
Dice the shallot crosswise.
Common Questions About How to Dice a Shallot
How do you dice a shallot?
To dice a shallot, cut off both ends. Then slice it lengthwise through the center. Peel the outer skin off, and set the shallot flat side down on the cutting board. Working from one end, make horizontal slices through the shallot, stopping about 1/4″ from the other end.
Next, put the knife on the top of the shallot and make lengthwise slices about the same distance apart as the thickness of the horizontal slices you just made. Finally, cut the shallot crosswise into dice.
How to select a shallot?
In general, shallots tend to contain more moisture than onions. Therefore, it's always best to steer clear of shallots that show the beginning signs of mold. The shallot should feel dry but not shriveled.
How to store a shallot?
Store shallots like you store onions; these belong in a cool, dry place with plenty of air circulation. Also, be sure not to store them closely packed due to the threat of mold spreading.
How do you prepare shallots?
The easiest way to prepare a shallot for cooking is to slice the ends of the shallot, in other words, the top and tail, and then peel back the skin. Next, pull apart the bulbs and slice them carefully and thinly using a sharp knife. Shallots are typically chopped more finely than an onion, especially in French cooking.
How do you peel shallots?
To peel a shallot easily and efficiently, follow the next steps:
Place your shallots in a heat-proof bowl
Boil some water and pour it over the shallots until they're fully submerged
Let them stand until the skins are soft, about three to five minutes
Plunge the shallots into cold water once they're done softening so they don't continue to cook
Use your hands and your favorite paring knife if necessary to slide those skins easily off the shallots
The result will be shiny, clean shallots
How do you cut shallot rounds?
If you're going to cook the shallots and want proper dice, make the cuts the same distance apart as the thickness of your horizontal and lengthwise slices. If you're using it in a dressing, you can make these slices thinner for more of a minced texture.
Is there a specific knife to dice a shallot?
You have two options for knives to dice a shallot, depending on how comfortable you are with your knife skills. Since shallots are typically pretty small, you might want to practice with a utility knife since it's smaller and easier to handle. You can use a chef's knife if you are confident in your skills and want to go a little faster.
What to look for in a knife?
One with the blade, bolster, and tang forged from a single piece of high-carbon stainless steel; has optimal stability. You should see the tang (or metal) sandwiched between the handle material along the spine.
Also, the knife should be neither blade- nor handle-heavy: If you place your finger under the curve of the bolster, the knife should balance perfectly.
What is the best chef knife to dice a shallot?
Here is an excellent option:
Made of steel, with a special mixture of molybdenum, vanadium, and chromium. The steel is made to be hard enough so that the knives retain their sharpness yet soft enough to sharpen with a whetstone. The high chromium content gives the knives excellent resistance to rust and staining.
Used by home and professionals, Global knives are lightweight yet razor-sharp that help reduces hand fatigue. Global knives retain their edge longer than any other major brand on the market.
This knife is a lightweight, precisely balanced 8-inch or 20cm chef's knife; the handle is molded for comfort and dimpled for safe grip.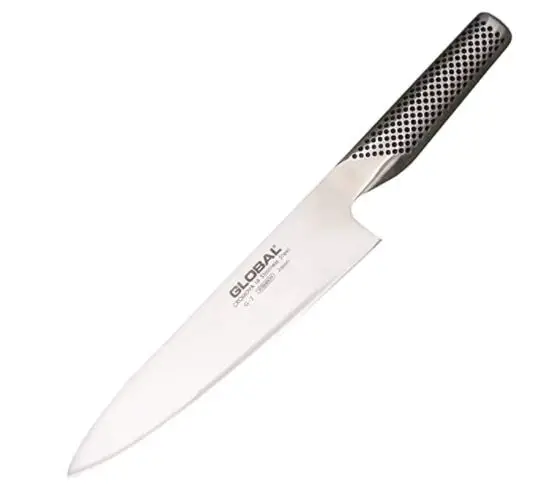 Features:
Lightweight
Blade made of high-tech molybdenum
Stainless-steel handle
Edge retains razor sharpness
Additional Tips on How to Dice a Shallot
To make things easier, start with one-half of your clean shallot.
You can soak the shallots in some warm water, and this will help you when you try to peel the skin off. Soak them for a 1/2 hour or so and then cut them with the instructions below.